Quick Start Guide
Version Q2-2021
System Installation
Install VEZHA Analytics System on your computer.
System Setup
After the system is installed, it needs to be configured.
For this purpose, go to the Settings section on the left side of the website.

Plugin Marketplace
First of all, go to the Plugin marketplace section and install the necessary plugins which you are going to use. Read more
To install the required plugin, click on the
INSTALL
button
.

License Activation
In the trial license, you have the access to one camera in each module by default. In order to expand your capabilities, you need to activate the license. Read more
For this purpose, go to the License section and click on the ACTIVATE NEW LICENSE button.

Google API Key (optionally)
If you want to use Google Maps you have to add a Google API Key. Read more
For this purpose go to the
General
section, paste the previously obtained
API Key
into the
Google Maps API Key
field and click on the SAVE button.

Video Stream
Next, it is necessary to add a Video stream (camera). Read more
For this purpose go to the Video streams section, click on the ADD button and choose a VIDEO STREAM to add a single stream, or GROUP to add several streams.

Servers
Check the server status before running Analytics. Read more.
For this purpose go to the Servers section.

Analytics
Finally, go to the plugins you have installed earlier. Each plugin has its own Analytics subsection.

In order to add Analytics, open the section with the plugin you are interested in and select the Analytics subsection. Then click on the ADD ANALYTICS button.

Set up new Analytics and click on the SAVE button.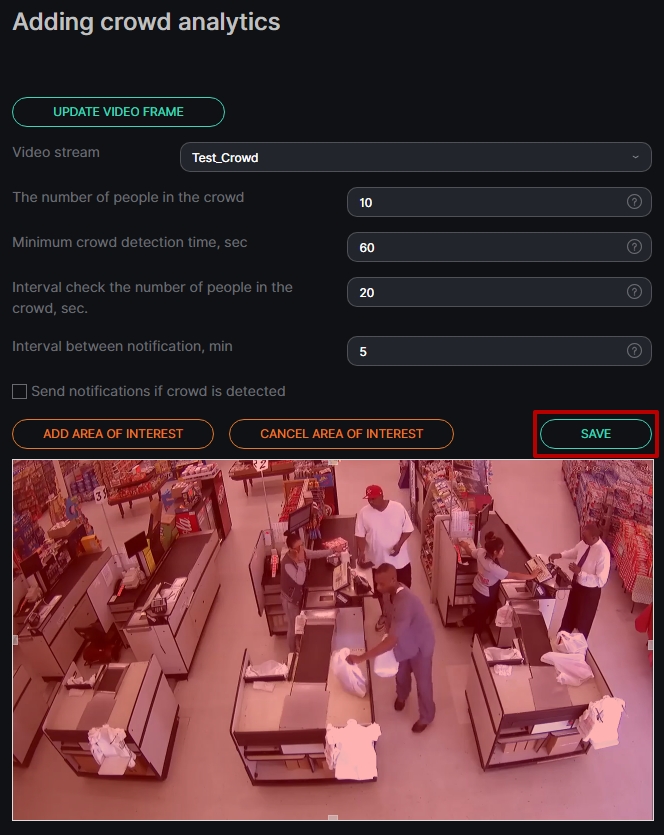 Analytics are added and configured separately for each plugin.
After the new Analytics is created, it is necessary to run it.
For this purpose, click on the Start button to the right of the created Analytics.

If you still have any questions about the VEZHA Analytics System installation, configuration, or Analytics running, please contact our managers for advice. We are always glad to help you!